What is a Doge?
A "Doge" is a viral meme featuring a Shiba Inu dog that became wildly popular on the Internet in 2013. Basically, a Doge is picture of a Shiba inu dog with silly captions that capture the Doge's thoughts at that moment. Perhaps, because the Shiba Inu dog is not fluent in the English language, these captions are normally grammatically incorrect, which in itself, adds to the humor of the meme.
Where did the word Doge come from? The misspelling of the word "dog" first circulated in the Internet around 2005. Later, the word was simply picked up by various Internet users and eventually the word became associated with the Shiba Inu dog meme.
Shiba Inu Meme?
First Doge, now Shiba Inu meme? What's a Shiba Inu meme exactly? Well, like earlier mentioned, a Shiba Inu is a Japanese dog. This dog, only recently introduced into the United States has quickly begun gaining popularity. With it's to die for looks, it's no surprise that the Shiba Inu has been gaining a lot of attention on the Internet.
Meme? A meme is basically a term that describes an idea, style, or behavior within a culture. So technically, a Shiba Inu meme is describing the comical "Doge" posters that have been creating a buzz in the Internet culture. This Shiba Inu meme, or Doge style has brought us lots of laughs and reflects about how we as a culture look at things collectively.
Meme
: A
meme
is "an idea, behavior, or style that spreads from person to person within a culture".
[2]
Internet Meme: An Internet is a subset of a meme and is often seen as catchphrase, a concept, an activity or a piece of media. Often these memes spread rapidly (virally) through social media.
The word meme was coined by Richard Dawkins in his 1976 book The Selfish Gene, as an attempt to explain the way cultural information spreads;[3]
The Original Doges or Shiba Inu Memes
The original Shiba Inu memes that kicked off this viral phenomena are Kabosu, a sweet female Shiba Inu who lives in Japan and Shiba Inu, Suki, who lives in San Francisco, California with her famous photographer owner, Jonathan Fleming. According to the Verge, the first photos of these two Shiba Inu dogs as memes surfaced sometime in 2010.

Kabosu, The Rescued Puppy Mill Shiba Inu
Kindergartner teacher, Atsuko Sato, rescued Kabosu, the Shiba Inu from a puppy mill.  Sadly, other Shiba Inu's in that rescue could not be saved and were euthanized. Kabosu got her unique name because her cute round face looks like a Kabosu, or citrus fruit.
Suki, Jonathan Fleming's Photogenic Shiba Inu Muse
The owner of Suki, Jonathan Fleming, is an accomplished professional photographer in San Francisco. Thus the photographs depicting Suki in various city landscapes are often stunning.
Both dogs' owners were completely unaware of their dogs' starring roles until they saw the Doge / Shiba Inu meme on the Internet and recognized their dogs and photographs.
It first started when both Shiba Inu owners started posting photos of their photogenic dogs to their personal blog posts and websites. It wasn't long until creative Internet users, downloaded their photos and transformed them into memes. One of the first groups who embraced Shiba Inu Memes were part of Tumblr blog called "Shiba Confessions." Their blog posts quickly gained popularity of sites like Reddit and the rest of the Internet.
The Original and "Untouched" Doge Photo of Kabosu
"Such" Shibe
The Doge meme "language" refers to the Shiba Inus as "Shibes," which adds to the affectionate appeal of the popular memes. Animated cartoons, t-shirts and other items soon followed as the Shiba Inu meme quickly grew in popularity.
The Classic "Doge" Look
The photograph of the Japanese Shiba, Kabosu, depicts a quizzical-looking face with a sideways glance, slight smile and a curious look; Suki's photo is a profile shot with a scarf around her neck. Kabosu's face however, is the most synonmous with the classic Doge look. That looks that depicts confusion, disgust, surprise, and question can allow us to go wild with our meme sayings. 
These appealing photos became the primary model for the Doge meme, and although the original photo of Kabosu was of the dog's entire body, her head has been Photo-shopped as a stand-alone component for many humorous memes.
Shiba Inu Memes Gone Wild
At times Kabosu is featured as a Twinkie meme, other times she is Photo-shopped with a celebrities face on her body. There is a Nicolas Cage Doge meme that is quite hilarious. Politics are also not safe from the being "Doge'd". There are quite a bit of political Shiba Inu memes such as quizzical Shiba Inu being snuggled by Vladimir Putin. Even better, A Shiba Inu meme filling in for Donald Trump's hair.
The Language of Doge
The unique language of Doge consists of one or two-word phrases that usually always include the word "wow" along with the modifiers "so," "such," "many," "much," and "very." The casual, improper grammar adds to the charm and humor of these whimsical memes, and the rainbow colors of the casual Comic Sans font gives the meme a child-like quality.
Nonsensical English Grammar
There have been many questions about the reason for using broken English grammar in memes. Some have said it is because the Doge dog or Shiba Inu, originates from Japan – therefore many of the creators were non-English speaking.
Some have deemed this to be a bit racist or mocking.
However, for the most part, most believe the grammar is simply meant to be humorous and bring smiles and laughs to the viewers. This article, written by a linguist, does a good job on the subject.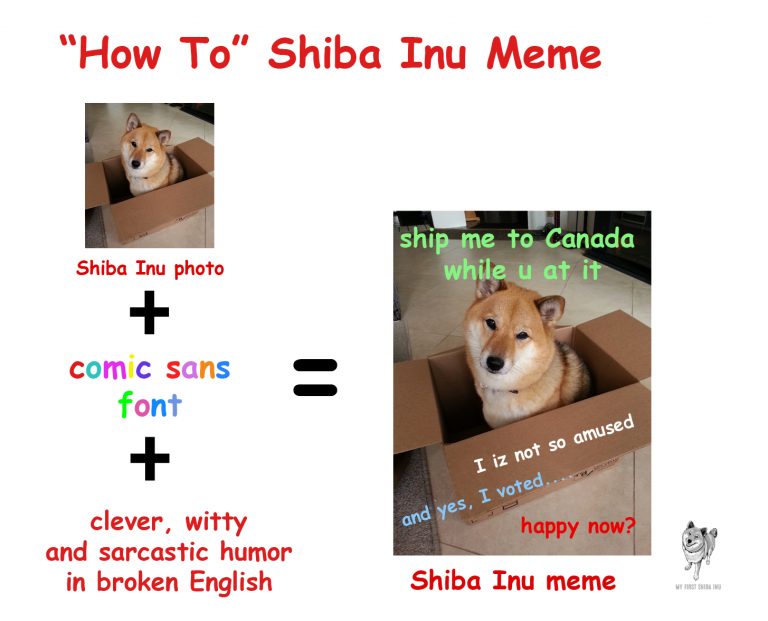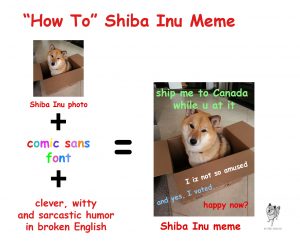 How To "Shiba Inu Meme"
The construction of a Shiba Inu meme is pretty easy. Start with an interesting photo of a Shiba Inu (Hopefully not copyrighted).
Use an image editor that has the font Comic Sans.
Take a moment to learn the "Doge" language. Trust me, it won't take long.
Think broken English mixed in with playful sarcasm.
Come up with some wildly clever and funny ideas to add to your Shiba Inu photography with the Comic Sans font, and Voila, you have officially Doge'd. Try it.
Shiba Inu Memes In Pop Culture and Commerciality
The popularity of Doge is undeniable, with many items depicting the Shiba Inu's Doge face available for purchase and a variety of memes continuing to circulate through social media. Doge has even inspired a bitcoin called Dogecoin, and a NASCAR driver, Josh Wise, made a Dogecoin sponsorship deal with the help of Reddit that displays the face of Doge on his car. Doge has also appeared in notorious political memes, a video for Delta Air Lines and a Weird Al Yankovic video.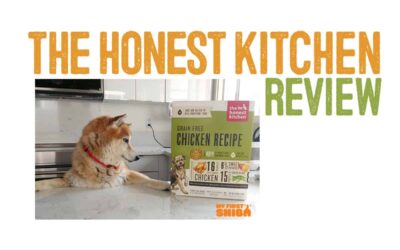 On occasion, our posts contain affiliate links. However, we only recommend products that we truly believe in. For more information, visit my privacy policy page. By now, it should be a no-brainer to understand that what feed our dogs is the single most important...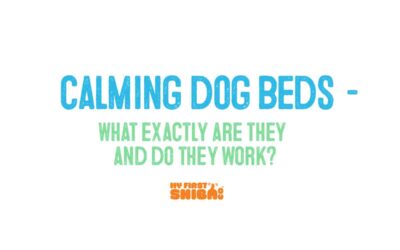 On occasion, our posts contain affiliate links. However, we only recommend products that we truly believe in. For more information, visit my privacy policy page.Calming dog beds are an absolute must for any dogs dealing with anxiety issues.But don't be too...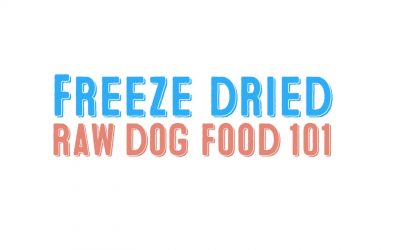 On occasion, our posts contain affiliate links. However, we only recommend products that we truly believe in. For more information, visit my privacy policy page​.Raw feeding, BARF, No grain, ancestral diet, high prey model diet....Many dog owners are looking for...