The Doge Twinkie of Your Dreams
There's probably been times in the past when you contemplated how your Shiba Inu would look as a Doge Twinkie.
Why not take action now!
It's not that hard and i'll show you the entire step-by-step process. Let's Doge this!
Materials Needed:
One quality / high resolution image of a Shiba Inu
One quality image of a Twinkie (look for a horizontally-oriented Twinkie that is optimally angled to become a good Doge)
 Adobe Photoshop or other image editor, or someone who likes Twinkies and Doges who will do it for you
Step 1. Place the image of your Shiba Inu and a twinkie into your image editor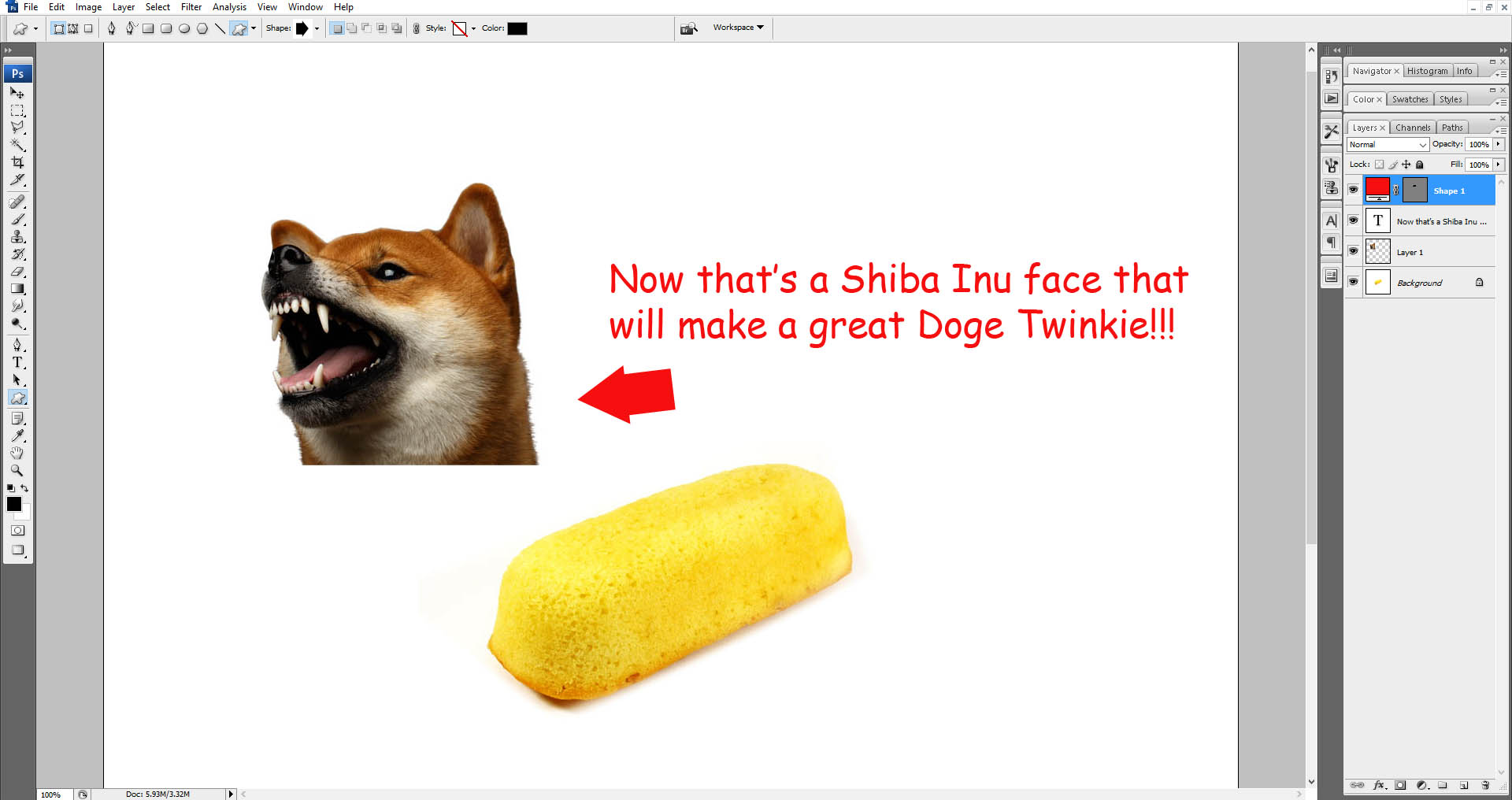 Step 2: Adjust the color of both the Shiba Inu and Twinkie. Resize the Shiba Inu head to proportionate to the soon-to-be Doge Twinkie.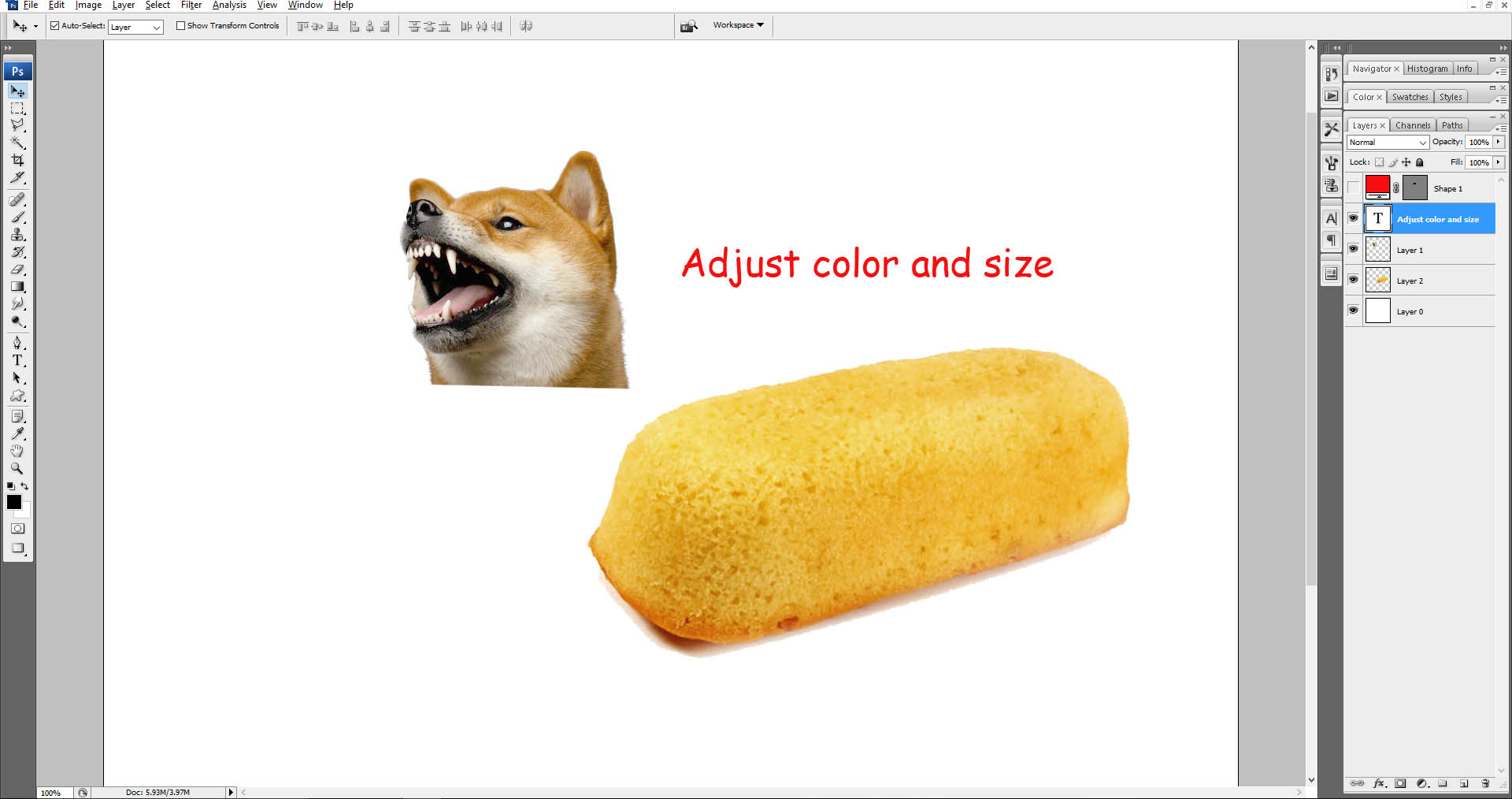 Step 3: This Doge Twinkie want's a neck, because everybody knows Shibas be all about the looks…
Make a copy of a portion of the twinkie to use as a neck for Mr. Doge Twinkie.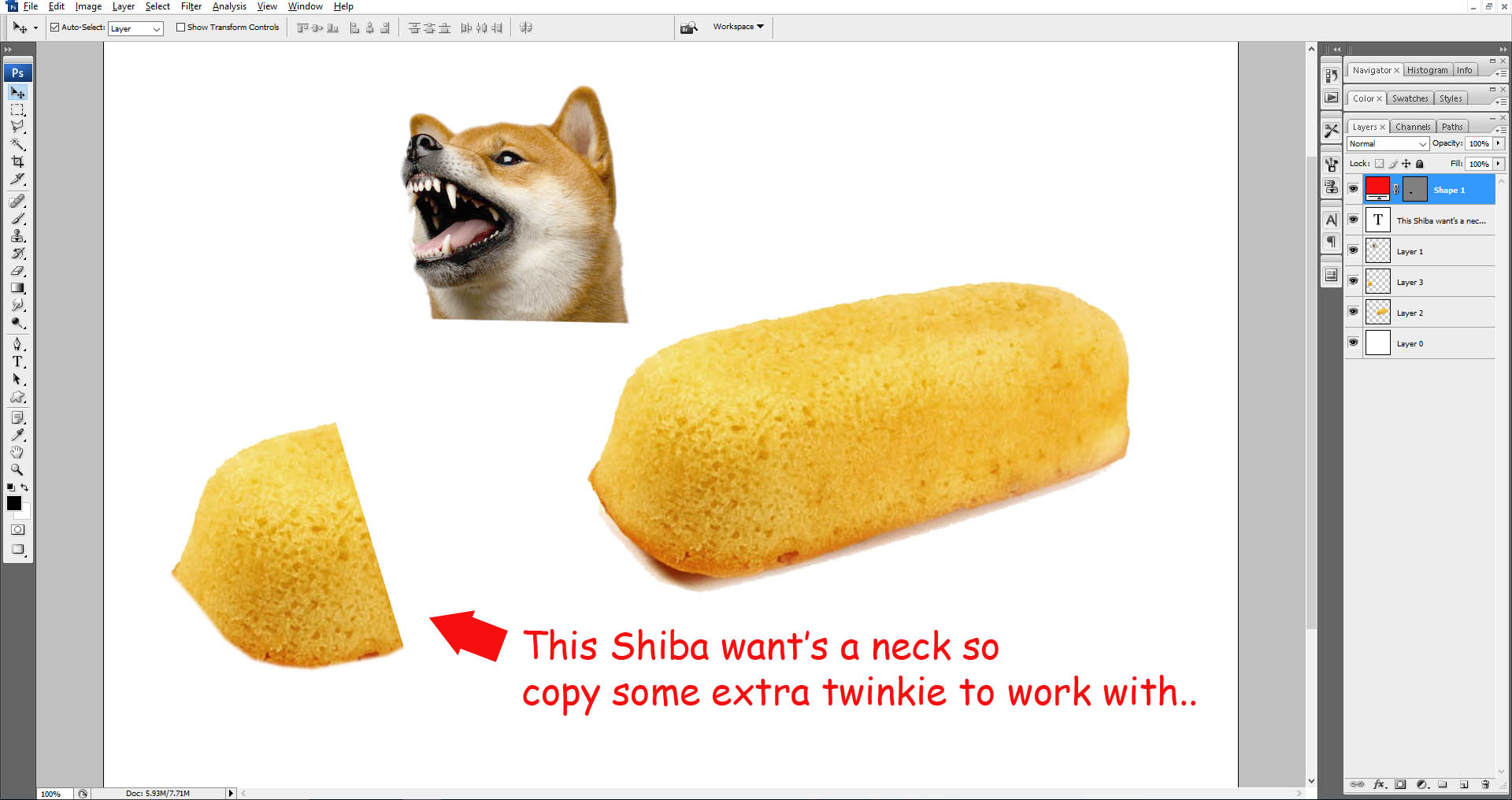 Step 4: Rotate the extra twinkie piece so the Doge head will fit nicely with it. Erase the dark edges of the twinkie with a feathered brush so that the extra twinkie piece blends well with the body.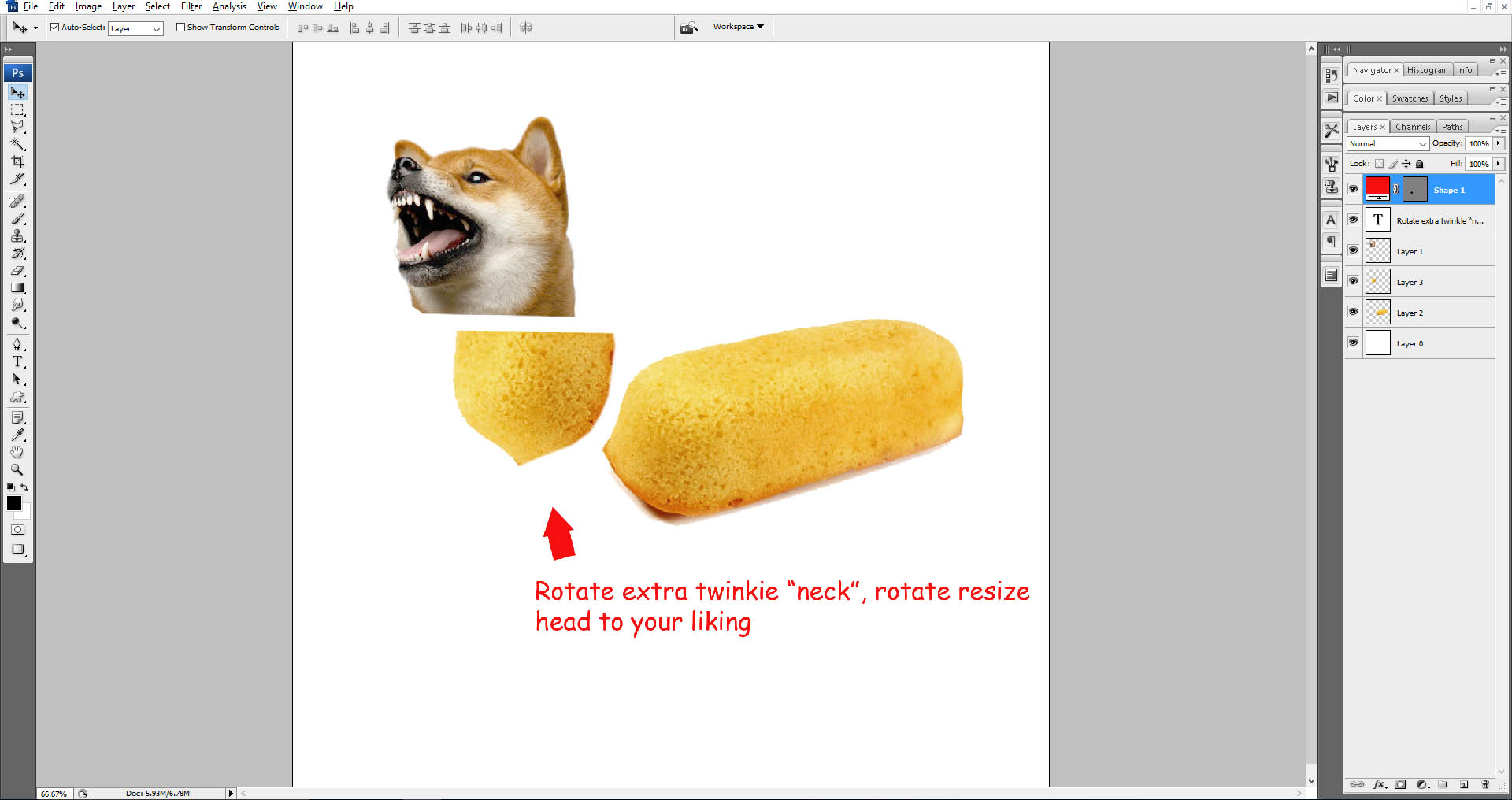 Step 5: Now here comes the interesting part of your quest to create the perfect Doge twinkie… Use a variety of layer masks and rubber sponges to blend all three elements into one seamless Doge Twinkie.
If you have Photoshop in the first place, you should know how to do this. If not, look for Youtube tutorials. 
Since it's a Shiba Inu, why not add it's trademark tail to ensure you create the cutest Doge Twinkie on the Internet.
Here, you can get creative too. I added some extra twinkies to make sure that the hungry Twinkie Doge has something to munch on.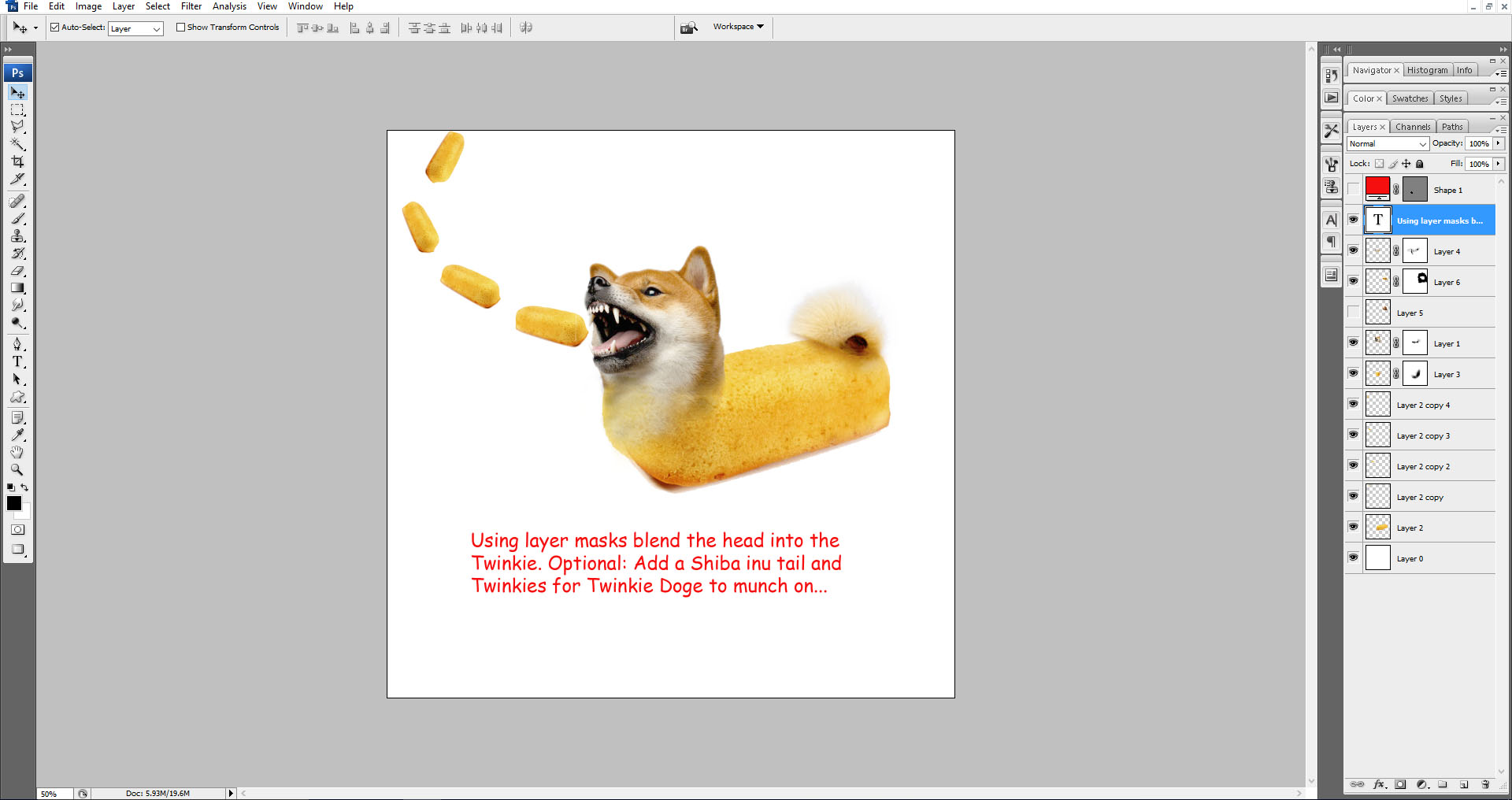 Step 6: You're in the homestretch – almost done. Now, all you have to do is think of something witty to caption your brand new Doge Twinkie creaton. You can either use standard all-caps text like I did or the Comic Sans font. It's up to you. You are the Picasso to this Doge meme canvas.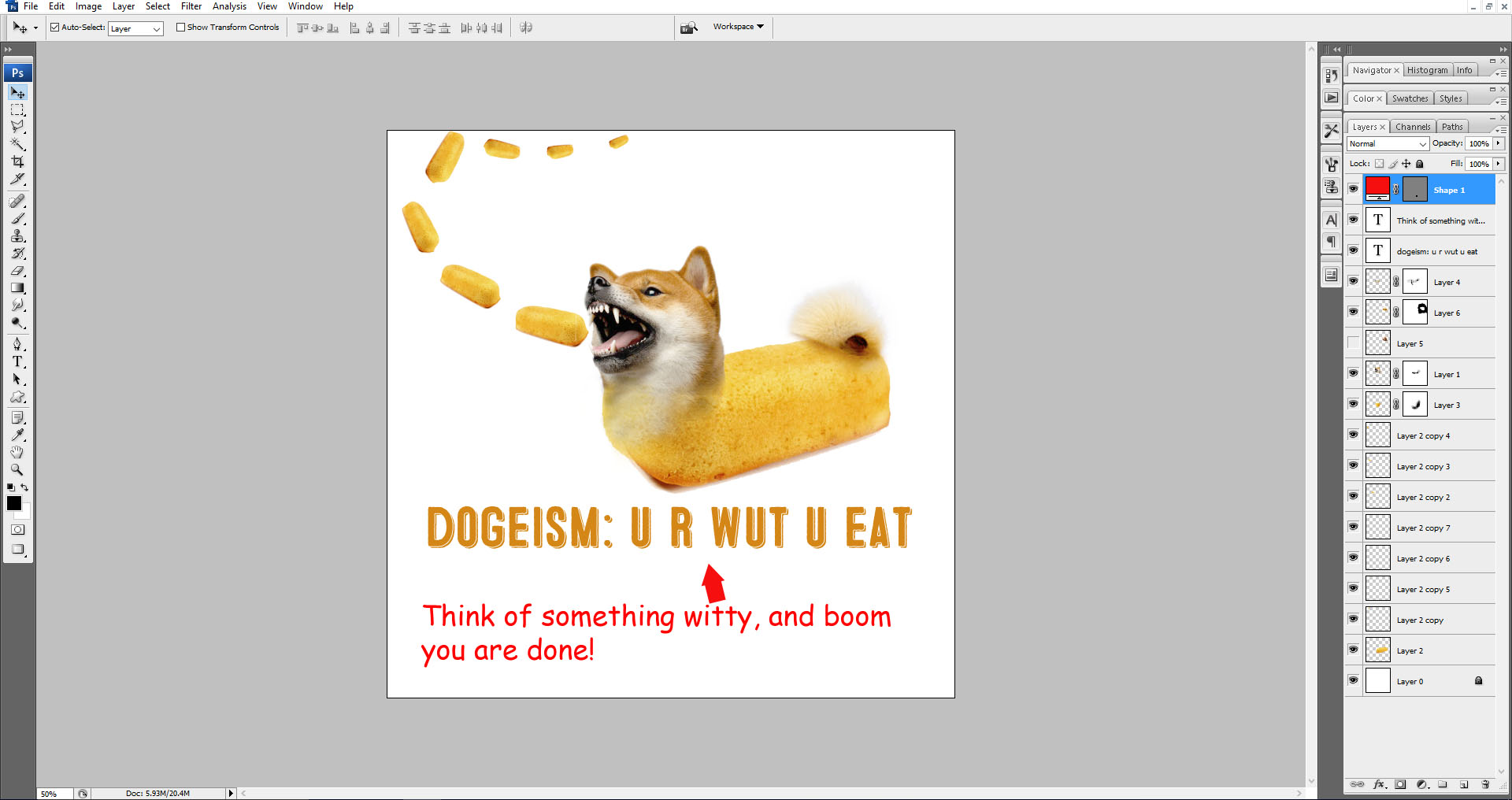 CONGRATULATIONS! You have sucessfully used an hour or so of your life into bringing a creative Doge Twinkie into the universe! Share this Doge with all your friends. They will be envious.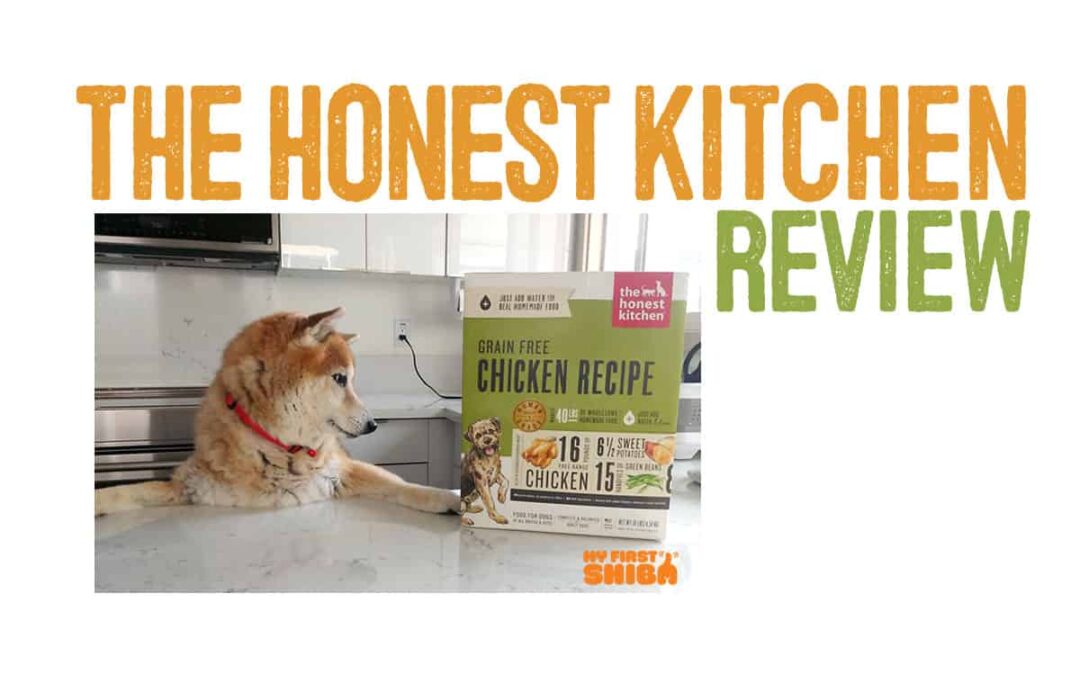 On occasion, our posts contain affiliate links. However, we only recommend products that we truly believe in. For more information, visit my privacy policy page. By now, it should be a no-brainer to understand that what feed our dogs is the single most important...